TECO, TENEX, and TOPS-20 Papers
And assorted memorabilia
As published in the IEEE Annals of the History of Computing, Volume 37, Number 1, January-March 2015. Once again, thanks to Dave Walden. This is a condensed version of "Origins and Development of TOPS-20" below. Coincidentally, this issue includes a lengthy interview with Gordon Bell. As published in the IEEE Annals of the History of Computing, Volume 31, Number 4, October-December 2009. Thanks to Dave Walden, editor of the Anecdotes section of the Annals, for inviting me to jot down this bit of 1960's history.
TENEX Goes On The Air June 15, 1970
Read the TENEX NEWSLETTER of July 16, 1970 which reported the birth of TENEX.
---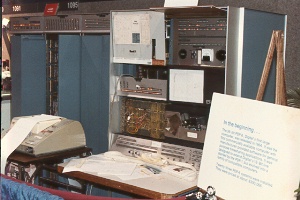 PDP-6

TENEX and TOPS-20 Papers
Early design memos from 1969. The incipient project was referred to as "TEN-SYS", later to be changedd to "TENEX."
The first TENEX paper, originally presented at the 1972 ACM Symposium on Operating System Principles
In-depth discussion of virtual memory, including mapped files, in TENEX. Presented at the 1972 FJCC.
How TENEX was developed into the DEC TOPS-20 operating system for the KL-10 and subsequent machines for the life of the 36-bit systems. 1989.
The TOPS-20 Cluster File System. 1985; revised 1989. Postscript version.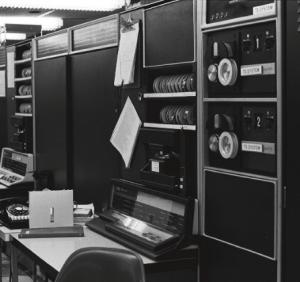 Two KA-10s at BBN circa 1971.
These are the machines between which the first network email was sent by Ray Tomlinson. For other stories about this event, enter first email tomlinson into google or your favorite search engine.
More pictures

KA-10 and BBN Pager

The TOPS-20 Monitor Group. Reportedly 1984, this would be the annual October 31st Halloween costume party. Photo by Dick Brown. Passed along by Gene Leache.


The TOPS-20 Monitor Group. 1984. Photo by David Dyer-Bennet.


The Layered Products Group. 1984. Photo by David Dyer-Bennet.


More 1984 group pictures. A number of pictures were taken with my camera at the time of the same photo shoot as the two pictures by David Dyer-Bennet above. In fact, ddb himself is seen in a couple of these setting up his shots. These scans are from the original negatives and pretty well capture all the resolution they have.

The rest of the story

The DEC-20 at Columbia University.

Don't forget Joe Smith's awesome collection of PDP-10 lore.
---